Links of Interest
---
The Sun in the Church: Cathedrals as Solar Observatories
As a college teacher I liked to remind my students of the title of a comedy album by the Firesign Theater: "Everything You Know is Wrong." It does, in fact, turn out that lots of things that "everybody knows" happen to be false, such as that any educated person back 2 1/2 millennia ever believed the world is flat . Another is the anti-science rap the Catholic Church has gotten ever since Andrew White (a former president of Cornell) published his anti-Catholic screed, "A History of the Warfare of Science with Theology in Christendom," still being quoted on some web pages as legitimate scholarly history. J.L. Heilbron, a science historian, has written The Sun in the Church: Cathedrals as Solar Observatories , published by Harvard University Press, which goes a long way toward setting the record straight.. "Centuries of oversimplifications have concealed just how hard Rome worked to amass astronomical tools, measurements, tests and lore. In its scientific zeal, the church adapted cathedrals across Europe, and a tower at the Vatican itself, so their darkened vaults could serve as solar observatories. Beams of sunlight that fell past religious art and marble columns not only inspired the faithful but provided astronomers with information about the Sun, the Earth and their celestial relationship." So says William Broad in the New York Times – read more here. No one interested in the history of astronomy should miss this – thanks to Helmer Askalsen for pointing me to it!

Heavenly Mathematics: Highlights of Cultural Astronomy
Helmer Aslaksen at the University of Singapore has a unique site on one of my beloved passions – cultural astronomy. Calendars, the Equation of Time, Archaeoastronomy, astronomy in culture and nature, sundials, moondials, mathematics, navigation, cartography, Stonehenge, the Egyptians — there are more links and content here than are dreamt of in your philosophy! A truly wonderful find.
Glory – Harbor Tours and Private Charters

Do you do the celestial navigation problems in the back of Ocean Navigator magazine? Ever wish you had that kind of knowledge and expertise? Well, now you can meet the author and go mano a mano!
The author of those problems, David Berson, runs an awesome excursion boat for harbor tours and private charters — the electric power Glory — out of Greenport , New York, on Long Island Sound. No diesel fumes, and imagine the peace and quiet!  He has also captained, at various times, such famous ships as the Harvey Gamage and the Ocean Star.
Check out his website at www.greenportlaunch.com
Abaco Island Wild Horse Fund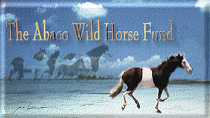 The seventeen remaining wild horses on Abaco Island are all named for navigational stars. They are almost certainly the direct descendents of the first horses introduced into the New World. Click here for more information and how you can help.